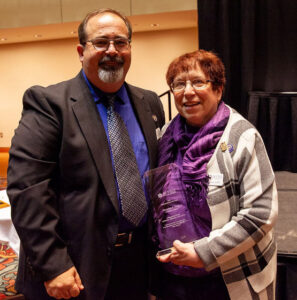 – by Nikki Arel
Connecticut was very proud to have Maureen Stott named as both our State and National Meritorious recipient for 2019 at the AMTA National Convention in Indianapolis.  This award has been given annually since 1969 and recognizes the volunteerism and altruistic, giving nature of one outstanding member of AMTA.
Many of us 'old timers' first met Maureen through CCMT, where she was an instructor and Financial Aid Counselor.  She has been an AMTA Member since 1992, when she graduated from CCMT and started her massage career.  A friendly face at meetings and volunteer events throughout the state, her infectious and well-known laugh is familiar to members who attend meetings.  Since leaving the school in 2011, her version of retirement took on a dedication to her massage practice and to Zentangles, which she teaches, practices and from which she also donates her finished products to a variety of causes.
One of the more recent ways in which she has been serving nationally is through the AODAC (Assembly of Delegates Advisory Committee).  As a long-term delegate from Connecticut, she was well-aware of the procedures and norms, often mentoring newer delegates and helping them through that first nerve-inducing HOD (House of Delegates) meeting.  When the switch was being made to an Assembly of Delegates, her knowledge, experience and mentorship were well-utilized in helping to form and introduce this new format.
Maureen's ability to never stop learning is obvious in her actions both at the Chapter and State levels.  She always greets newer members and is interested in their experience and feedback; she is that unique person who likes to gather information and make that into a positive experience or event.  As part of the AODAC, she has been that member who does not hold onto the 'old way' from habit, but rather is willing to explore how to make the AOD a better tool for our members and our industry.  Her phone call before Convention is always one you welcome, saying hello and inviting you to introduce yourself in person.  She may not be quick on her cellphone with a selfie, but she is one of the first to laugh, smile, hug and welcome members at both the State and National levels.
Maureen has always looked to elevate our profession and to encourage those within to find their best contribution style.  She has taught workshops beyond being an instructor at CCMT and continues to share her talents in both massage and Zentangles through small class teaching.  While serving on the Board in CT, she was willing to try new ways to engage the members. One of the most lasting was her desire to highlight the long-term members and their accomplishments, tapping into them as a resource and knowledge-base. This legacy has continued.
On a very personal note, I was so honored to be at National and to cheer for Maureen as she went forward to our National President Chris Deery and accepted her award.  I met Maureen before I was an LMT and when I made the choice to attend CCMT and to begin a new career path, she was a support and offered to mentor or help in any way. She made me feel welcomed and a part of my first AMTA meeting.  She always has a hug and a laugh for me that simply reminds me to find the good in even a frustrating situation.  She has been a constant for AMTA and we are very blessed to have her involvement and dedication.
Please extend your congratulations to Maureen when you next see her.  This is a wonderful and well-deserved award for a beautiful, giving and sincere volunteer.  Congratulations, Maureen!
Congratulations Maureen.  Connecticut is lucky to have such an exemplary example to call our own – Mindy Michaud, AMTA-CT Financial Administrator
It is a privilege having such a passionate and experienced massage provider in our chapter. Maureen is devoted to our industry and embodies the qualities that elevates our profession and we are very proud to recognize her. – Tama Mackay, AMTA-CT Sports Massage Team Chair
Congratulations Maureen on receiving BOTH the National and Chapter Meritorious Awards! For the 25 years that I have been a member, I have always known you to be passionately involved in the "goings on" of our chapter! These awards were a long time coming and are WELL DESERVED! – Jodi Wolf, AMTA-CT Board Member 1